The Magnolia Sword: A Ballad of Mulan by Sherry Thomas. September 10, 2019. Tu Books, 348 p. ISBN: 9781620148044.  Int Lvl: YA; Rdg Lvl: YA.
CHINA, 484 A.D.
A Warrior in Disguise
All her life, Mulan has trained for one purpose: to win the duel that every generation in her family must fight. If she prevails, she can reunite a pair of priceless heirloom swords separated decades earlier, and avenge her father, who was paralyzed in his own duel.
Then a messenger from the Emperor arrives, demanding that all families send one soldier to fight the Rouran invaders in the north. Mulan's father cannot go. Her brother is just a child. So she ties up her hair, takes up her sword, and joins the army as a man.
A War for a Dynasty
Thanks to her martial arts skills, Mulan is chosen for an elite team under the command of the princeling–the royal duke's son, who is also the handsomest man she's ever seen. But the princeling has secrets of his own, which explode into Mulan's life and shake up everything she knows. As they cross the Great Wall to face the enemy beyond, Mulan and the princeling must find a way to unwind their past, unmask a traitor, and uncover the plans for the Rouran invasion . . . before it's too late.
Potentially Sensitive Areas: Violence, Gore, Alcohol
Reviews
Kirkus Reviews (July 1, 2019)
New life is breathed into the ballad of Mulan. The Hua and Yuan families share a legacy: As caretakers of the deftly made swords Sky Blade and Heart Sea, each generation must fight to determine the next guardians of the swords. Hua Mulan has only known a life of being disguised as a boy, trained in weaponry by her father. What her father does not know is that Mulan already spars with her future duel partner. On the eve of the showdown, the Hua family receives a letter citing political unrest threatening the Yuans as a reason to withdraw from this year's duel. When the Hua family receives a conscription notice requiring one male per household to report for duty, Mulan enlists, quickly being recruited into the princeling's elite team for her skills. Mulan finds herself caught in a web of sabotage, battles, and strained loyalties, trying to maintain her own cover and handling the growing affection between the princeling and herself. While the resolution may seem too neat for some, Thomas (The Hollow of Fear, 2018, etc.) brings new dimensions to the iconic character, weaving emotional depth and ethnic political issues into the plot. She immerses readers in bustling city streets and freezing swaths of wilderness. Scaffolded by detailed research, the story is based on actual historic conflicts and artifacts. A refreshing new take that pays homage to a legendary character. (author's note, linguistic and historical notes) (Historical fiction. 12-15)
Publishers Weekly (October 14, 2019)
Rich cultural references, intricate political machinations, and thrilling Wuxia elements distinguish this deftly woven Mulan retelling by Thomas (The Immortal Heights), who was born and raised in China. Hua Mulan, who publicly assumes her deceased twin brother's name, Hua Muyang, fills her days with projectile training alongside her father, caring for her seven-year-old brother, and secretly looking forward to the sporadic training sessions she has with Yuan Kai, a mysterious boy she is fated to duel with over a pair of matchless inherited swords. But mandatory conscription causes the match to be deferred, and Mulan enlists on behalf of her household. Her martial arts expertise earns her a role accompanying the royal duke's son, a young man who seems strangely familiar. As the Rouran invasion looms, Mulan and her companions must evade danger and uncover a traitor at court while unpacking their preconceived notions about family, fear, and nomadic tribes. Skillful martial arts scenes combine with crucial discourse on power, gender, and the impact of language on history in this gripping, thoughtfully layered reinterpretation.
About the Author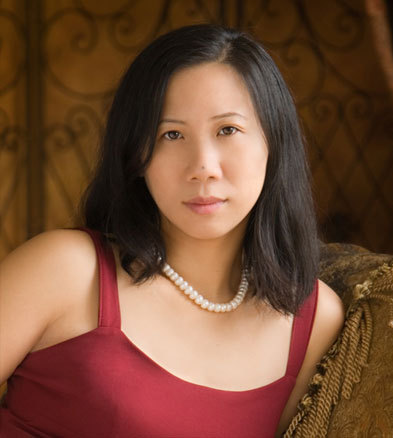 Sherry Thomas is the author of nineteen novels across multiple genres, including the acclaimed Lady Sherlock mystery series, a YA fantasy trilogy that began with The Burning Sky, and more than a dozen romance novels, which have twice won her the Romance Writers of America's prestigious RITA Award. Born in China, she learned English as a second language, and now lives and writes in Austin, Texas.
Her website is sherrythomas.com.
Around the Web
The Magnolia Sword on Amazon
The Magnolia Sword on Barnes and Noble
The Magnolia Sword on Goodreads
The Magnolia Sword on LibraryThing
The Magnolia Sword Publisher Page