The Institute by Stephen King. September 10, 2019. Scribner, 561 p. ISBN: 9781982110567.  Int Lvl: AD; Rdg Lvl: AD.
In the middle of the night, in a house on a quiet street in suburban Minneapolis, intruders silently murder Luke Ellis's parents and load him into a black SUV. The operation takes less than two minutes. Luke will wake up at The Institute, in a room that looks just like his own, except there's no window. And outside his door are other doors, behind which are other kids with special talents—telekinesis and telepathy—who got to this place the same way Luke did: Kalisha, Nick, George, Iris, and ten-year-old Avery Dixon. They are all in Front Half. Others, Luke learns, graduated to Back Half, "like the roach motel," Kalisha says. "You check in, but you don't check out."
In this most sinister of institutions, the director, Mrs. Sigsby, and her staff are ruthlessly dedicated to extracting from these children the force of their extranormal gifts. There are no scruples here. If you go along, you get tokens for the vending machines. If you don't, punishment is brutal. As each new victim disappears to Back Half, Luke becomes more and more desperate to get out and get help. But no one has ever escaped from the Institute.
As psychically terrifying as Firestarter, and with the spectacular kid power of It, The Institute is Stephen King's gut-wrenchingly dramatic story of good vs. evil in a world where the good guys don't always win.
Potentially Sensitive Areas: Mild sexual themes, Strong language, Suicide, Underage drinking, Underage smoking, Violence
Book Trailer
Reviews
Booklist (August 2019 (Vol. 115, No. 22))
Over a prolific 40-year writing career most authors only dream about, King has turned almost every one of his novels into a bestseller on the strength of his ability to create sympathetic protagonists facing life-threatening and often otherworldly challenges. Following the tender and mysterious fable, Elevation (2018), King's latest supernatural yarn stays true to his signature focus by featuring a 12-year-old genius named Luke Ellis who's kidnapped and transported to a secret facility known simply as the Institute. As the shock of capture wears off, Luke discovers his fellow inmates are all other adolescents like himself with latent psychic powers—powers that are exploited and enhanced by a team of abusive researchers. When Luke befriends a disenchanted housekeeper, he quickly seizes the opportunity to escape and reveal the Institute's undertakings to the outside world. King devotees will, of course, devour this latest suspenseful page-turner, but any reader looking for a smart thriller about an unusual black ops organization will find this compelling and rewarding. With his usual blend of plot twists and vividly drawn characters, King remains at the top of his game. HIGH-DEMAND BACKSTORY: Abducted psychic teens, a black ops mission, and narrative magnetism ensure the usual King fever. Be prepared.
Kirkus Reviews (August 15, 2019)
The master of modern horror returns with a loose-knit parapsychological thriller that touches on territory previously explored in Firestarter and Carrie. Tim Jamieson is a man emphatically not in a hurry. As King's (The Outsider, 2018, etc.) latest opens, he's bargaining with a flight attendant to sell his seat on an overbooked run from Tampa to New York. His pockets full, he sticks out his thumb and winds up in the backwater South Carolina town of DuPray (should we hear echoes of "pray"? Or "depraved"?). Turns out he's a decorated cop, good at his job and at reading others ("You ought to go see Doc Roper," he tells a local. "There are pills that will brighten your attitude"). Shift the scene to Minneapolis, where young Luke Ellis, precociously brilliant, has been kidnapped by a crack extraction team, his parents brutally murdered so that it looks as if he did it. Luke is spirited off to Maine—this is King, so it's got to be Maine—and a secret shadow-government lab where similarly conscripted paranormally blessed kids, psychokinetic and telepathic, are made to endure the Skinnerian pain-and-reward methods of the evil Mrs. Sigsby. How to bring the stories of Tim and Luke together? King has never minded detours into the unlikely, but for this one, disbelief must be extra-willingly suspended. In the end, their forces joined, the two and their redneck allies battle the sophisticated secret agents of The Institute in a bloodbath of flying bullets and beams of mental energy ("You're in the south now, Annie had told these gunned-up interlopers. She had an idea they were about to find out just how true that was"). It's not King at his best, but he plays on current themes of conspiracy theory, child abuse, the occult, and Deep State malevolence while getting in digs at the current occupant of the White House, to say nothing of shadowy evil masterminds with lisps. King fans won't be disappointed, though most will likely prefer the scarier likes of The Shining and It.
About the Author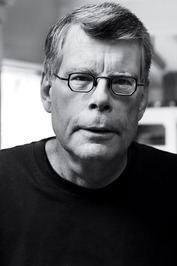 Stephen King is the author of more than sixty books, all of them worldwide bestsellers. His recent work includes The Institute, Elevation, The Outsider, Sleeping Beauties (cowritten with his son Owen King), and the Bill Hodges trilogy: End of Watch, Finders Keepers, and Mr. Mercedes (an Edgar Award winner for Best Novel and an AT&T Audience Network original television series). His novel 11/22/63 was named a top ten book of 2011 by The New York Times Book Review and won the Los Angeles Times Book Prize for Mystery/Thriller. His epic works The Dark Tower and It are the basis for major motion pictures, with It now the highest grossing horror film of all time. He is the recipient of the 2018 PEN America Literary Service Award, the 2014 National Medal of Arts, and the 2003 National Book Foundation Medal for Distinguished Contribution to American Letters.
He lives in Bangor, Maine, with his wife, novelist Tabitha King.  His website is www.stephenking.com.
Around the Web
The Institute on Amazon
The Institute on Barnes and Noble
The Institute on Goodreads
The Institute on LibraryThing
The Institute Publisher Page