The Twisted Ones by T. Kingfisher. October 1, 2019. Saga Press, 399 p. ISBN: 9781534429574.  Int Lvl: AD; Rdg Lvl: AD.
When a young woman clears out her deceased grandmother's home in rural North Carolina, she finds long-hidden secrets about a strange colony of beings in the woods in this chilling novel that reads like The Blair Witch Project meets The Andy Griffith Show.
When Mouse's dad asks her to clean out her dead grandmother's house, she says yes. After all, how bad could it be?
Answer: pretty bad. Grandma was a hoarder, and her house is stuffed with useless rubbish. That would be horrific enough, but there's more—Mouse stumbles across her step-grandfather's journal, which at first seems to be filled with nonsensical rants…until Mouse encounters some of the terrifying things he described for herself.
Alone in the woods with her dog, Mouse finds herself face to face with a series of impossible terrors—because sometimes the things that go bump in the night are real, and they're looking for you. And if she doesn't face them head on, she might not survive to tell the tale.
From Hugo Award–winning author Ursula Vernon, writing as T. Kingfisher, The Twisted Ones is a gripping, terrifying tale bound to keep you up all night—from both fear and anticipation of what happens next.
Potentially Sensitive Areas: Cruelty to animals, Strong language, Violence
Video Review
Reviews
Booklist (September 15, 2019 (Vol. 116, No. 2))
Mouse goes to rural North Carolina to clean out her dead grandmother's house, finding an unsettling, hoarder mess. Amidst the garbage, she finds her step-grandfather's journal, which describes horrors in terrifying detail, and which Mouse and her dog also begin to experience. Told with a "found book" frame and an intense first person narration, this folk horror novel begins with the unease of Mouse telling readers how her life was forever tainted by the experience she is about to recount. The tale is as tightly twisted and menacing as the carvings she finds in the woods. Readers will stand back in awe as it all unravels, slowly at first, and then with great and terrifying speed. This is a modern retelling of Arthur Machen's seminal weird fiction tale, "The White People," a story that greatly influenced H.P. Lovecraft, but readers won't need that context to enjoy The Twisted Ones. Kingfisher brings this brand of horror to a new generation, and the book will appeal to readers of Lovecraftian adaptations by Caitlin Keirnan, Matt Ruff, and Paul La Farge.
Kirkus Reviews (August 1, 2019)
A woman realizes she's not alone while cleaning out her late grandmother's remote North Carolina home. Freelance book editor Melissa, aka "Mouse," can't say no to her father when he asks her to clear out her grandmother's house. Unfortunately, the house, which has been locked up for two years, is a hoarder's paradise, but Mouse digs in with her beloved coonhound, Bongo, at her side. One day bleeds into another as she hauls junk to the nearby dump and makes friends with her kind and quirky neighbors, Foxy, Tomas, and Skip. When she finds a journal belonging to her stepgrandfather Frederick Cotgrave, things get creepy. The prose sounds like the ravings of a man unhappy in his marriage to a woman who wasn't a very nice person, but the mention of something called the Green Book is intriguing, and the line "I twisted myself about like the twisted ones" gives Mouse the chills. While walking Bongo in the woods, Mouse stumbles on a strange gathering of stones on top of a hill that shouldn't exist. After discovering a gruesome deer effigy hanging in the woods, Mouse confides in Foxy, who tells a few strange tales of her own. Something is lurking just outside Mouse's house, and that effigy isn't of this world, but just when she's ready to leave, Bongo disappears. And Mouse isn't going anywhere without Bongo. Kingfisher effortlessly entwines an atmospheric and spooky "deep dark woods" tale with ancient folklore and pulls off more than a few very effective scares. Mouse is a highly relatable and frequently funny narrator who is also refreshingly willing to believe her own eyes. The charming supporting cast is a bonus, especially the glamorous, 60-something Foxy, who goes above and beyond the call of duty to help Mouse when she needs it most. Read this one with the lights on.
About the Author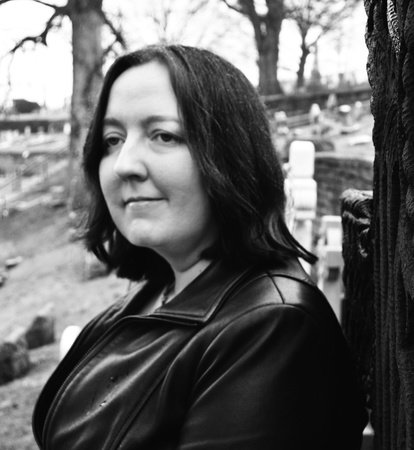 T. Kingfisher, also known as Ursula Vernon, is the author and illustrator of many projects, including the webcomic "Digger," which won the Hugo Award for Best Graphic Story and the Mythopoeic Award. Her novelette "The Tomato Thief" won the Hugo Award for Best Novelette, and her short story "Jackalope Wives" won the Nebula Award for Best Story. She is also the author of the bestselling Dragonbreath, and the Hamster Princess series of books for children.
Her website is ursulavernon.com
Around the Web
The Twisted Ones on Amazon
The Twisted Ones on Barnes and Noble
The Twisted Ones on Goodreads
The Twisted Ones on LibraryThing
The Twisted Ones Publisher Page