Jackpot  by Nic Stone. October 15, 2019. Crown, 343 p. ISBN: 9781984829627.  Int Lvl: YA; Rdg Lvl: YA; Lexile: 670.
Meet Rico: high school senior and afternoon-shift cashier at the Gas 'n' Go, who after school and work races home to take care of her younger brother. Every. Single. Day. When Rico sells a jackpot-winning lotto ticket, she thinks maybe her luck will finally change, but only if she–with some assistance from her popular and wildly rich classmate Zan–can find the ticket holder who hasn't claimed the prize. But what happens when have and have-nots collide? Will this investigative duo unite…or divide?
Nic Stone, the New York Times bestselling author of Dear Martin and Odd One Out, creates two unforgettable characters in one hard-hitting story about class, money–both too little and too much–and how you make your own luck in the world.
Potentially Sensitive Areas: Mild sexual themes, Racial insensitivity, Strong language, Underage drinking, Mention of underage smoking
Book Trailer
Reviews
Booklist (August 2019 (Vol. 115, No. 22))
Grades 8-12. Seventeen-year-old Rico Danger (pronounced DON-gur) helps her single mother pay rent and raise nine-year-old Jax, which leaves no time for making friends or having dreams. Then, while working at a gas station register, she sells a lotto ticket to a cute old lady, who—after no one claims the $106 million prize—Rico is sure has the winner. She turns to millionaire teen heartthrob Zan to help her find the woman, but when he takes a more-than-friendly interest in Rico, she must figure out how she can possibly fit into his upper-class world. Stone (Odd One Out, 2018) delivers a heartfelt, humorous teen romance fraught with the tension between financial privilege and the lack thereof. While presenting a shrewd depiction of the resulting power dynamics, the stakes feel surprisingly low, and the romance is somewhat humdrum. Despite puzzling chapter intervals written from the perspective of omniscient objects (e.g., a saltshaker, Zan's bedsheets), there's something about Stone's storytelling—and Rico's narration—that is entirely engaging, making this an ultimately hard-to-put-down, enjoyable read.
Kirkus Reviews (August 15, 2019)
Seventeen-year-old Rico's family is living paycheck to paycheck and way beyond their means, even with Rico's practically full-time job and her mother's long hours. When a customer purchases the winning ticket at the Gas 'n' Go where she works but doesn't claim it, Rico begins searching for the elderly woman she believes to be the winner. She enlists the help of Zan, the superrich heir of Macklin Enterprises in their hometown of Norcross, Georgia. Rico tentatively begins to hope in the future as her feelings for the privileged and complex Zan and her camaraderie with new friends finally start balancing out her family's struggles. Filled with rich character development, whip-smart dialogue, and a layered exploration of financial precariousness, Stone (Odd One Out, 2018, etc.) touches on rising health care costs, the effect of illness in the family, interracial dating, and biracial identity. Intermittent passages from the perspectives of inanimate objects—including the winning ticket—around the characters add humor, and the short chapters inject the narrative with suspense. Rico is white, Latinx, and black. Zan is Latinx and white, and they live in a predominantly white neighborhood. Readers will have to suspend disbelief at the book's conclusion, but this romantic coming-of-age novel will have them hoping for their own lucky ending. Stone delivers a thoughtful and polished novel about class, privilege, and relative poverty. (Fiction. 14-adult)
About the Author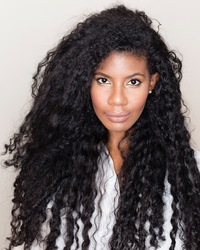 Nic Stone was born and raised in a suburb of Atlanta, GA, and the only thing she loves more than an adventure is a good story about one. After graduating from Spelman College, she worked extensively in teen mentoring and lived in Israel for a few years before returning to the US to write full-time. Growing up with a wide range of cultures, religions, and backgrounds, Stone strives to bring these diverse voices and stories to her work.
Stone lives in Atlanta with her husband and two sons.  Her website is www.nicstone.info
Teacher Resources
Jackpot on Common Sense Media
Around the Web
Jackpot on Amazon
Jackpot on Barnes and Noble
Jackpot on Goodreads
Jackpot on LibraryThing
Jackpot Publisher Page