APRIL 23, 2020
Today is: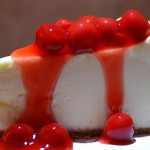 National Cherry Cheesecake Day — Be they baked in or layered on top, cherries do make the cheesecake much better!
National Lost Dog Awareness Day — Take some time to think about all those posters and fliers you see around.  Maybe today can be the day you help someone fine their lost best friend..
National Picnic Day — Even though for lots of us parks and open areas are off limits, who's stopping you from throwing down a blanket in the backyard for your lunch break today?
HAPPY BIRTHDAY!
| | |
| --- | --- |
| | JAMES BUCHANAN (1791-1868) — American politician.  15th President of the United States. |
| | STEPHEN DOUGLAS  (1813-1861) — American politician and lawyer.  Known for being half of the famous Lincoln-Douglas debates in Illinois (1858); 1860 presidential candidate. |
| | SHIRLEY TEMPLE BLACK  (1928-2014) — American actress, singer, dancer, and diplomat.  Former child star became a US Ambassador. |
| | ROY ORBISON (1936-1988) — American singer-songwriter best known for his songs Only the Lonely & Oh, Pretty Woman. |
| | MICHAEL MOORE (1954) — American documentary film maker, author, & activist (Bowling for Columbine, Fahrenheit 9/11) |
| | JOHN CENA  (1977) — American professional wrestler and actor. |
TODAY IN HISTORY
| | |
| --- | --- |
| 1635 – The first public school in North America, the Boston Latin School, is founded in Boston in the Massachusetts Bay Colony.  It is still an active school. | |
| 1985 – Coca-Cola changes its formula and releases "New Coke".  Three weeks later, due to a overwhelming negative response it will be discontinued and the original formula returned. | |
| 2005 – The first ever YouTube video, "Me at the Zoo", is uploaded by the user jawed. | |